News from Tribe of Heart , Producers of PEACEABLE KINGDOM: THE JOURNEY HOME and THE WITNESS
Peaceable Kingdom: The Journey Home wins
Best Feature Documentary Award at Moondance!
Video highlights from world premiere • Details about upcoming festivals
Encore broadcast of The Witness on Tampa Bay PBS - WEDU
Dear Friends,

We are back from Boulder, where

Peaceable Kingdom: The Journey Home

won the "Spirit of Moondance" Best Feature Documentary award! The film is already off to a great start, thanks to the compassionate people of Boulder who gave us a warm reception with a full house screening and a standing-room-only Q&A following the film.

Because a picture is worth a thousand words, and a video is worth even more, we have compiled some images and interviews from our world premiere weekend to help share the experience with you.

Watch them now!

WORLD PREMIERE WEEKEND VIDEO!
Click here

to watch video and see slide show

The weekend's events brought together an inspired and inspiring team of individuals whose dedication and infectious enthusiasm helped make the premiere a success. Our sincerest gratitude goes out to the film's associate producers

Eric Huang

and

Kevin Smith

, Tribe of Heart's international coordinator

Italia Millan

, and extaordinary volunteers Pam Page,

Barbara Bear and Matt Bear

, along with Donna Marino and Kellie Cremer, and of course,

Harold Brown

, who made the trip to Boulder to participate in the premiere events and to give a presentation the following day.

We also extend our heartfelt gratitude to the other subjects of the film who were not able to attend:

Howard and Willow Jeane

,

Cheri and Jim

,

Cayce and Jason

; to

Kevin

and

Joy

, whose musical talents infused the film with energy and spirit; and to the many friends and colleagues of Tribe of Heart whose generosity and assitance made this film project possible and who helped see it through the many challenges to the finish line. We felt all of you with us when the lights dimmed and the first frame appeared on screen. We hope to meet up with many of you as we take the film on the road in the coming months.

On our last night in Boulder, we were given a very personal reminder that to each animal in need, even the smallest gesture of help can make all the difference in the world. You can read the story of Ronnie, one very lucky raccoon,

here

. What a fitting way to end our World Premiere Weekend!

Warm wishes,

James LaVeck and Jenny Stein

Co-founders of Tribe of Heart

PS: DVD release in 2010. Details to come.

---

Tribe of Heart currently has a pressing need for financial support to help bring this life-changing documentary to the widest possible audience. Please consider making a donation today to help support the launch of Peaceable Kingdom: The Journey Home. Thank you!



Donations can be made online or mailed to:
Tribe of Heart, PO Box 149, Ithaca, NY 14851 USA

---

Earlier this year,

The Witness

was broadcast on Tampa Bay's PBS affiliate

WEDU

, thanks to the efforts of local attorney Isabelle Tassi, who brought the documentary to the attention of WEDU's Vice President of Content Jack Conely. Now WEDU+ will be showing the film again as part of its Animal Awareness Night of programming this Sunday at 10 PM.

The other films being shown are Guardians of the Gulf, looking at the impact of Red Tide on local and worldwide waterways (8 PM), Fifteen Legs, about a pioneering group of activists dedicated to preserving the lives of domestic animals in America (9 PM), and the WEDU productions Horses of Proud Spirit (9:30) and Dolphin Rescue (11 PM), along with a special episode of Up Close with Cathy Unruh devoted to protecting black cats (11:30 PM).


Please encourage your friends and family in West Central Florida to tune in!

More details

---

Their fate will be sealed in the next few weeks.

Please take a moment to learn more about this time-sensitive situation and to sign our petition. You can also follow our efforts to save the deer on Facebook and Twitter

.




Next Stops on the
Film Festival Circuit


Hot Springs Documentary Film Festival
Hot Springs, Arkansas



Screening Times
Peaceable Kingdom:
The Journey Home
Friday, Oct. 23 at 3:25 PM
Sunday, Oct. 25 at 10:05 AM
Each screening will be followed by
Q&A with filmmakers Jenny Stein
and James LaVeck


Environmental Panel
Saturday, Oct. 24 at 10:30 AM
Producer James LaVeck will be one of the participants in a panel discussion which also includes Robert Kenner, the filmmaker of Food, Inc.


---

Orlando Film Festival
Orlando, Florida


FREE Screening
Peaceable Kingdom:
The Journey Home
Thursday, Nov. 5 at 4:30 PM
Followed by Q&A with filmmakers
Jenny Stein and James LaVeck


---

Ojai-Ventura International Film Festival
Ojai, California


Screening Times
Peaceable Kingdom:
The Journey Home
Friday, Nov. 6 at 3 PM
Saturday, Nov. 7 at 10 AM
Each screening will be followed by Q&A with director Jenny Stein, producer James LaVeck, and assoc. producer Kevin Smith


---

St. Louis International Film Festival
St. Louis, Missouri


Screening Time
Peaceable Kingdom:
The Journey Home
Saturday, Nov. 14
Time and Location TBA


Named one of the 10 Best International Festivals in the U.S. by Chris Gore's

The Ultimate Film Festival Survival Guide

, the

St. Louis International Film Festival

has a special focus on American independent productions and horizon-expanding international films that would otherwise never screen in St. Louis.

Stay tuned for more details about our screening event!

---

Maple Farm Sanctuary's Annual Picnic Fundraiser
Sunday, Oct. 18, 1-5 PM
101 North Ave., Mendon, MA
Special Guest Harold Brown


Two of the seven subjects of

Peaceable Kingdom: The Journey Home

, Cheri Ezell-Vandersluis and Jim Vandersluis, are the founders of

Maple Farm Sanctuary

. In the film, they tell the touching story of how they once raised goats and cows for dairy production until their conscience demanded they forge a more authentic relationship with the animals they cared for.

You can meet Cheri, Jim, and fellow film subject Harold Brown at Maple Farm Sanctuary's annual picnic and fundraiser. Learn more

here

.
---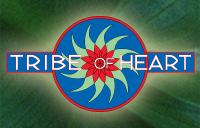 Tribe of Heart
is a 501(c)(3) charitable organization that produces award-winning, life-changing films about the journey of awakening conscience and the ethics of the human-animal relationship.