News from
Tribe of Heart
, Producers of PEACEABLE KINGDOM: THE JOURNEY HOME and THE WITNESS
Peaceable Kingdom: The Journey Home
wins a Best of Fest Audience Award
at the Berkshire International Film Festival
Coming up: Screenings in Chicago, Cleveland and Johnstown, PA
Dear friends,

We've recently returned from an unforgettable weekend in Western Massachusetts, where

Peaceable Kingdom: The Journey Home

won the

Best of Fest Audience Award

for documentary at the

Berkshire International Film Festival

. The film was shown twice, followed by lengthy Q&A sessions with an engaged and inspired audience.

The second screening was especially exciting for us, as two of the film's subjects,

Harold Brown

and

Cheri Ezell-Vandersluis

, were in attendance. This was Cheri's first experience of watching the film with an audience, and we were all moved to tears at many points during the screening. Likewise, it was the first public screening for

Kevin Bartlett

, one of the two talented composers whose music comprises the film's score (the other is

Joy Askew

). Though Kevin had seen the film with us privately, he remarked that it was ten times more powerful viewing it in a theater with an audience.

Berkshire International Film Festival board member Maria Nation introduced the film as one that changed her life. Based on our interaction with viewers afterwards, as well as their written comments (see some of them below), it's clear that many others were similarly affected. So it was both a thrill and an honor to see this response reflected in their votes for our film, which led to

the award

.

We have three more screenings planned in the next few weeks, and we hope if you live near Chicago, IL, Cleveland, OH, or Johnstown, PA, that you can join us (see details in right column).

In addition to all these events, and in preparation for the DVD release, we have been working day and night on a new web site and print materials that will accompany the film. Time and again, we've heard from film festival viewers that they want to learn more so that they may continue on the journey of awakening conscience that the film has begun. To that end, our new web site, called Peaceable Journey, will be launched, along with a printed companion piece, shortly before we launch the DVD. We envision these resources being a valuable stepping stone not just for people who have seen the film, but for anyone beginning to explore the important issues touched on in the film -- compassion, non-violence, sustainability, and a global vision for peaceful co-existence.

We are ever mindful of the growing community of caring individuals all across the world whose invaluable advice, volunteer time and donations are what

make our work possible.To you, we give our humble thanks as we continue on the journey to co-creating a compassionate future -- the journey home.

Warm wishes,

James and Jenny

Co-founders, Tribe of Heart

---

Tribe of Heart needs your support now, more than ever, to complete the Peaceable Journey web site and printed resources which will accompany the launch of the DVD. Please help us bring these much needed educational tools to people who are eager to put them to use in communities around the world!

Donations can be made

online

or mailed to:

Tribe of Heart, PO Box 149, Ithaca, NY 14851

---

Audience Comments from the
Berkshire International Film Fest

One of the most powerful films I've ever seen -- an inspiration -- thank you.

Well worth the wait! Not only is "the journey home" about our individual and collective journeys to truth and justice, but the animals' journeys "home." They are our teachers if we will only listen -- hear them -- and learn. Maybe this is "the one" that will awaken the collective. I can only hope.

This film made me decide to reconsider my way of living. THANK YOU.

It is time for all of us to stop closing our eyes to the inhumanity imposed on our animal friends. Bravo! Forever changed.

Amazing and powerful and a visceral experience... I appreciate all the beautiful emotional connections between the animals and people. I'm very moved.

It's hard to communicate the number of feelings that enveloped me while viewing this film. The emotions of the audience surrounded and touched me as an ocean of compassion.

Very powerful without being preachy. Very brave -- it's especially powerful to see farmers talking about this. I'm a "locavore" who eats "humane meat" so there's much to think about.

It was eye-opening, heart-warming and nostalgic. Reminded me of the feeling I had as a child growing up on a dairy farm and connecting with so many cows, calves, chickens, etc. It was an amazing story of bravery and courage on the part of all the people devoting their lives to making such a great change at such a huge cost (financially) -- but also, what a great reward in being able to live and express such love and kindness and compassion. The reward is peace of mind and serenity.

If I had any doubt in terms of my future direction as a vet student, the film dissolved it; I have no choice but to devote my life to caring for the animal victims of gross human indiscretion.


Very moving film. When I was very little I had a pet chicken, Elizabeth. At the end of the summer she went back to the farmer. I thought of her a lot during this movie. She was a great chicken. That was over 60 years ago.

Intense. Meaningful and significant. Big messages to share. Emotional. Thank you!

Thank you for bringing my awareness to a shift of consciousness that is happening on a global level... seeing this movie, today, will affect the choices I make in what I eat. The humanity and courage of the people in this film touches me deeply -- people living their values -- and that is what needs to change... beyond our prayers, we can make a difference in how we live.

Outstanding documentary filmmaking... the music was extraordinary as well as the visuals.

I am usually articulate, especially with pen and paper. I am speechless... I'd like to remember how I feel now and make the changes I would like to make. I don't want to become complacent.

I'm not entirely sure whether to thank you for this exposure or whether to wonder if this opens a whole Pandora's box of questioning a large part of our culture and daily life. It was a fantastic film, extremely well done and very tender. I will only know how it affects me when I get quite a way down the road. Good luck with this endeavor.

Your film was eye-opening and powerful. I'm leaving the theater with many questions for myself that I have previously avoided. Thank you!

I had seen "Food, Inc." and was touched by the idea of supporting the small independent farmer -- however, this film goes even further... I never realized (duh!) cows had to be pregnant to produce milk. I thought it was a natural result of their digesting grass, hay, etc. Another real eye opener.

Thank you for a beautiful experience.

So very moving and enlightening. I felt my heart breaking at the violence and cruelty. It made me cry to think of the part I have played in the misery of other living creatures. Thank You!

Fantastic, life-altering film... very important piece of work. Congratulations.

Thank you for the awareness of the possibility to change in a huge way.

---


Watch a preview of
Peaceable Kingdom: The Journey Home




In Chicago's Mindful Metropolis magazine, documentary filmmaker James LaVeck discusses why he's excited to share Peaceable Kingdom: The Journey Home with Chicago audiences later this month, what went into making the film, and some inspiring moments he's experienced at recent screenings.

---

Upcoming Screenings

Chicago, IL
Thursday, June 24th
MindfuLive! Community Event

5:30 PM - Pre-Screening Reception
7 PM - Film Screening followed by
Q&A with filmmaker James LaVeck


Irish American Heritage Center
4626 N. Knox, Chicago, IL Free Parking and convenient to 90/94,
CTA Blue Line: Montrose, and CTA Buses

Map/Directions

Mindful Metropolis magazine hosts this special screening as part of their MindfuLive! Community Event series. Light fare will be served, catered by Tsadakeeyah's Catering Gourmet Vegan Food and The Chicago Diner. There is a cash bar. More details Tickets are $15 in advance and can be purchased here. Tickets will also be available at the door for $20 (cash only). If you are on Facebook and plan to attend, RSVP here, and invite your Facebook friends, too!

---

Ohio Premiere: Cleveland
Sunday, June 27 at 4 PM
Cleveland Institute of Art

Aitken Auditorium
11141 East Blvd., Cleveland, OH In University Circle, across from the Cleveland Museum of Art Map

FREE Screening & Reception


Plus Q&A with filmmakers Jenny Stein & James LaVeck, and film subject
Harold Brown

The newly formed Cleveland Animal Rights Alliance hosts this free screening and reception as their inaugural event. Former farmer Harold Brown returns to Cleveland where he formerly resided before moving to central New York and founding FarmKind.

Please share our evite with your friends and family in the Cleveland area!


If you are on Facebook and plan to attend, RSVP here, and invite your Facebook friends, too!

---

Conference Premiere: Vegetarian Summerfest
Johnstown, PA
Saturday, July 10
Details TBA

Annual Conference of the
North American Vegetarian Society

Pasquerilla Performing Arts Center
University of Pittsburgh, Johnstown, PA

Screening followed by Q&A
with filmmakers Jenny Stein & James LaVeck and film subjects Harold Brown, Cayce Mell and Jason Tracy

We are delighted to be returning to the annual Vegetarian Summerfest for the conference premiere of our new film, which will also be the first public screening attended by film subjects Cayce Mell and Jason Tracy. Former farmer Harold Brown will also be joining us. Both he and producer James LaVeck will be giving talks throughout the weekend. If you've never been to the Vegetarian Summerfest, this is the year to check it out! More details coming soon.

---

Last month's Seattle premiere of Peaceable Kingdom: The Journey Home at the beautiful Egyptian theatre drew a crowd of people lined up around the block to get in. This first community-organized screening of the film was a resounding success in every way we could have hoped. The nearly full house of 400 enjoyed an emotional and uplifting evening which included a lively Q&A with Willow Jeane and Howard Lyman, and a reception featuring donated animal-friendly treats.
The audience response to the film was the warmest we have yet received, and in the days and weeks since the screening, Tribe of Heart volunteer Kate Sharadin, who organized it, has shared with us a steady stream of updates about the ripples of change that keep moving out from this single event: Hearts changed and minds opened, new friendships made and new commitments on the part of many people to align their lives with their values, to engage more directly with the work of creating a more just and sustainable future for us all.
This all-volunteer effort, carried out with consummate excellence by each person who took part, shows just how powerful authentic community can be. It is our caring effort, our commitment to our values, and our willingness to collaborate in service of something larger than ourselves--not money, not political connections, not fame--that are the keys to changing the world. Congratulations and many thanks to Kate and her outstanding team! You've inspired us all and established a high standard for all the community screenings to come in the months ahead.


See more photos and some
audience comments here

.
---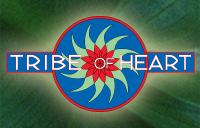 Tribe of Heart
is a 501(c)(3) charitable organization that produces award-winning, life-changing films about the journey of awakening conscience and the ethics of the human-animal relationship.